Precision Trades & Roofing: The Ultimate Solution and Storm Restoration for Your Brevard County Roofing Needs
A good roof is essential to the safety and comfort of your home or commercial property. It protects you, your family, and your belongings from the harsh weather conditions and external factors. However, choosing the right roofing company can be a daunting task, as there are many factors to consider, including experience, reputation, quality of work, and cost. Precision Trades also installs impact windows to help protect your home from wind damage caused by hurricanes.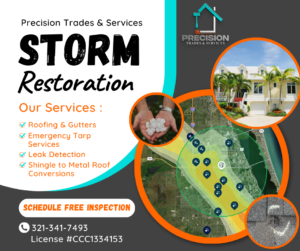 Precision Trades & Roofing is a reputable roofing and trades company that has been providing high-quality roofing, gutter and window services to homeowners and businesses for years. The company has built a solid reputation for delivering exceptional services that exceed customers' expectations. Here's why you should consider Precision Roofing & Trades for your roofing needs.
Expertise and Experience
Precision Roofing & Trades has a team of experienced and skilled professionals who are passionate about their work. The team has years of experience in the roofing industry, and they have honed their skills over the years to deliver top-notch services. Whether you need a new metal , or shingle roof installation, repairs, or maintenance services, Precision Trades & Roofing has the expertise to get the job done right the first time.
Quality Materials
The quality of roofing materials used is crucial to the longevity and durability of your roof. Precision Trades & Roofing only uses the best quality materials from reputable manufacturers. The company ensures that the materials used are of high quality, meet industry standards, and are suited to the specific needs of your property.
Competitive Pricing
Precision Trades & Roofing understands that roofing and home services can be costly, and that's why the company offers competitive pricing without compromising on quality. The company offers free estimates and upfront pricing, so you know exactly what to expect before the project begins. Moreover, the company has flexible payment plans to suit your budget and needs.
Exceptional Customer Service
Precision Roofing & Trades is committed to delivering exceptional customer service. The company understands that a roofing project can be stressful, and that's why they take the time to listen to your needs, answer your questions, and provide timely updates throughout the project. The team also cleans up after the job is done, leaving your property in pristine condition.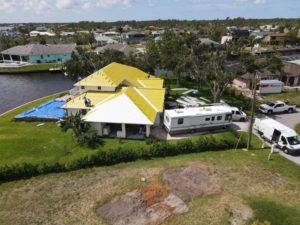 Conclusion
In conclusion, Precision Trades & Roofing is the ultimate solution for all your roofing needs. The company has the expertise, experience, and quality materials to deliver exceptional services that meet your specific needs.  Contact Christian Hawley (321-276-3999) at Precision Trades & Roofing today for all your roofing needs!